At right is a scan of the Leif Beiley custom designed "lead" keel for the Beneteau First 235 that adds about 9 inches of depth to the stock fin and more righting ability. This keel is very close to his B boat designs that have received some acclaim. Take a look at the line drawing below at right for similarities; it appears as if Leif has refined the keel design even more with his new Bravura 29. Leif has since started Bravura Yachts where his Bravura 29 is found.

The Beiley F235 lead keel brings more of the weight at a lower point and adds a total of 75lbs of weight. With the lead keel offering more density and weight than the comparative stock iron, the wetted area was reduced as well. See the comments from Leif via the larger shot of the drawing at right (click for full).

Jeff Burne currently owns Pegasus, the F235 with this excellent lead keel. Jeff sails off the California coast, where the design is surely welcome. Jeff comments below:
As far as the handling goes, the previous owner told me the boat was able to point much better with the modified keel. I never sailed her before so I don't know what the degree of difference is.

From all I'm reading about how tender the F235 is (especially the wing keel) the modified keel seems to make her a stiffer boat. I've been out in winds of 15 to 20 knots with a full main and 100% jib without any problems. At 20 knots and above I have to go to the stock jib, which is a little smaller, or reef the main - Jeff Burne
I envy this keel for the lead and the righting ability in fresh conditions although the added depth at 4.5ft is quite a change from the standard wing keel's 2.9. Still, I think this compromise well worth it for those sailing in more windy conditions.

I plan to be commenting on the wing keel's performance in ocean coastal sailing in winds that average between 15-18 knots daily. I think that either the wing or the fin do not really do this kind of sailing justice and wish Beneteau had elected to move to lead. Not only would this have brought about better performance in heavier air, but it would have knocked the maintenance factor worry in half as the rust aspect of iron is always an issue.


Jeff Burne's Pegasus - Lead view




View of keel from bow.

This keel is significantly thinner narrow than the Wing Keel. The Beiley custom keel brings better performance, especially upwind.

Click for full view.

See
NEW Leif Beiley Re-Designed Beneteau F235 Lead Keel Mk III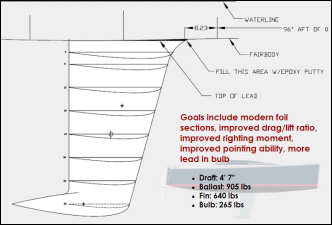 below: Pegasus and fleet surprised by gust after start...