Beneteau Vinyl Headliner:
A rotting foam backed nightmare that every owner must face sooner than later... But what to do?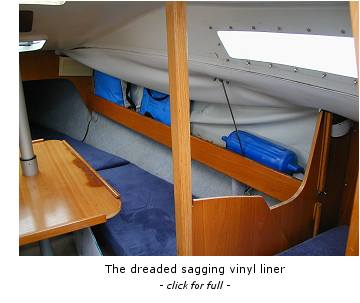 I should have known something was up when the former owner said, "the interior is in EXCELLENT shape...just excellent. Oh, there might be a few spots where the headliner needs to be tacked up...but really, it's in excellent shape."

Indeed. Just a few.

As stated in the title, it's not a matter of IF the headliner will fall, but WHEN. Bring heat, moisture, and air, and the foam backing behind much of the liner will turn to a black dust that resembles dried toxic waste, with a seemingly endless supply, depletion nowhere in sight.

Our headliner turned into such a mess, it was almost debilitating. Every time we go down below to contemplate a proper fix, we are met with the two walls of black, crumbling, glue-infused, brown fiberglass. Why didn't Beneteau just go the extra few yards to gelcoat this interior? It's a what-if question that holds little reward.

For now, see some other comments via forums and posts. Also, see the gray box below for a nifty, if costly, solution to totally rid the problem once and for all.

Vinyl Solution Exchange on Beneteau Forum

Replacing the Headliner
by Paul G. regarding Beneteau 390
I had a similar headliner and hull liner problem with the vinyl-backed foam headliner in my 1991 Moorings 38. The glue and foam were mismatched by Beneteau in the factory, causing the foam, over time, to turn to dust and the headliner all fell down. The dust prevented gluing the old headliner back up.
I took out all of the old headliner and replaced it with a similar vinyl backed foam liner, 1/2 in. thick. The hard part was getting all the foam/glue dust off the hull and out of the boat. The stuff gets everywhere. This required wiping the hull down with "Goof Off". And using a plastic scraper to get the resulting goop off the hull. Definitely unpleasant and sticky, and requiring a vapor mask and lots of ventilation.
I used the old pieces as patterns, except where the cabin furniture had been bolted on top of the liner during construction. We sewed the edges where necessary for a finished look.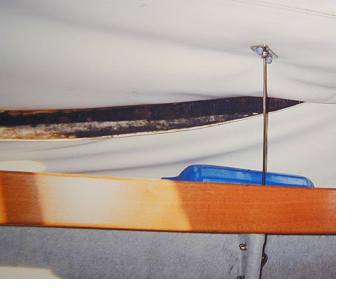 Then I put the new vinyl up with Weldwood Gel Contact Cement, gluing it directly to the hull. This has held up well with no problems through this past summer season in Florida.
I had to do the entire boat: aft cabin, aft head, forward head, main cabin and forward cabin. Used something like 25 yards of the vinyl. It is a time consuming job but well worth it when finished

Foam Backed Vinyl Sources

REDRUM Fabrics sourced the headliner vinyl at $14.95 USD per yard plus shipping.

http://www.garysupholstery.com/foamback.html
Foam Backed Vinyl $19.99 per yard


Foam gone? Unfortunately, foamless Vinyl adheres to imperfections

I have a 1983 First 32 that has the same problem, mostly in the aft quarter berth. Once the foam backing has deteriorated, forget trying to re-glue it back up. The vinyl will adhere closely to the fiberglass liner and you get a wavy appearance (I did this in the galley area and head, and will have to redo eventually). The solution is to buy new foam-backed material and use the old pieces as patterns to recut new ones. This is what I'm going to do for my quarterberth. The material can be bought at www.sailrite.com, along with the appropriate adhesive. The only part I will have to have done is to have a canvas shop sew the "finished" edges. Its a big job, but not something you can't do with a little determination and elbow grease! FYI, I figured 8 yards of 54" wide material (the only width, I think), at like $13/yard. So for $104 plus glue, some expense at the canvas shop, and some elbow grease, it'll be like new!

Headliner Solution? Go Wood!

Yeah, it's a Jeanneau Tonic but what a solution to a nagging problem that EVERY 235 owner will face sooner or later. The replacement of the area from the shelf to the top appears relatively easy. It would also allow easy repairs to the side or toe rail area if you make it removable. It certainly won't hurt the appearance. Other options include treated beadboard or more carpet up the verticle section with reglued overhead.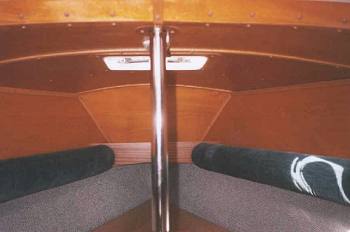 More On Headliners

Are there some materials or procedures you can suggest for solving a headliner problem?
Steve Meadows responds:

You may need to determine if the headliner/hull liner went in before the boat was decked. If so, you may have grave problems. There are several types of headliner installations. You should determine which you have.
Foam-backed vinyl or fabric glued directly to the underside of the deck.
Suspended—material stapled to battens (deadwood) generally running athwartship.
Suspended panel—material glued or stapled to a precut plywood panel and then fastened to deadwood.
For the foam-backed type, it is common for the foam to oxidize and crumble, causing the foam to release from the deck. You may have some luck using an aerosol adhesive such as 3M's General Trim Adhesive or similar. Keep in mind, if the foam is crumbling, and you try to glue it back up, you will get a lumpy result. You may want to just take down the existing headliner and have one of the other systems installed.
For a suspended system, you need to determine if it is installed with a blind tack system of overlapping panels or if it is just stapled to battens and then trimmed with a teak or wooden battens. If it is blind tacked, it is difficult to repair or replace a panel in the middle. It is similar to repairing a tongue-and-groove floor.
For the suspended panel system, you need only remove the damaged panel and re-glue or replace the material.